Snakes and ladders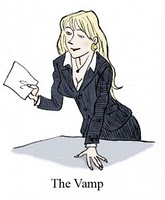 We've got a new crop of pupils running around chambers at the moment and today they were all standing neatly in a row in chambers tea. OldSmoothie was the first to comment.
'Look at you. All unformed. Still finding your place in the world. One minute you'll be buzzing around feeling like a drone and the next you'll be absolutely full of your own cleverness as you get to help on some big case or other.'
'Oh but don't they look so cute,' whispered TheVamp eyeing up two of the male pupils. 'All fresh-faced, clean cut and so deliciously corruptible.' Then, I think without realising, she actually licked her lips.
'I remember my pupilmaster sat me down on my first day and told me that whilst I might have climbed to the top of whatever ladder it was at university, I was now right back down on the very bottom rung,' said TheBusker.
'It's just the same for barristers who leave to become judges,' said OldRuin.
'They get treated like the junior tea boy for at least the first year or two.'
'That's all it is really, isn't it?' said UpTights looking a little madder than usual.
'This whole thing. Life. Just one big cruel game of snakes and ladders.'
'There's certainly no shortage of snakes,' said BusyBody looking at OldSmoothie.
'Yes, and the only ladders you've ever got close to are in your tights,' he replied.
'Well little pupil boy,' purred TheVamp into the ear of the nearest of the two she'd been admiring. 'How would you like a game of snakes and ladders?'
With which he blushed and quickly made his excuses and left.
BabyBarista is a fictional account of a junior barrister written by Tim Kevan. You can buy the latest BabyBarista novel, 'Law and Peace' on Amazon. The cartoons are by Alex Williams, author of The Queen's Counsel Lawyer's Omnibus.