Leveson-lite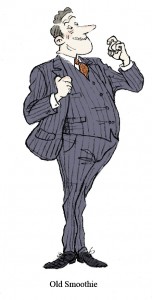 "I've been loving watching the Leveson Inquiry," said BusyBody today.
"Yes, it kind of makes me think that chambers needs to hire someone to lobby high court judges and their officials when we're involved in big cases," smiled OldSmoothie.
"But you already do that yourself," said TheVamp.
"I certainly do not," said OldSmoothie looking particularly indignant.
"What? So sucking up to the court clerks, some of whom who we all know discuss the barristers with their judges, doesn't count?" said BusyBody.
"Certainly not," said OldSmoothie.
"Or going pheasant shooting with a certain high court judge?" said UpTights.
"Definitely not. He happens to be one of my closest friends," came the reply.
"As is the circuit judge you're always appearing in front of and who you just so happen to take fishing to Scotland every year?" said TheVamp.
"Exactly," said OldSmoothie, looking a little less sure of himself.
"And the influential district judge who likes to watch a bit of cricket," piped up BusyBody.
"And that's before we even start analysing all the shmoozing that HeadClerk does on our behalf," said Teflon.
"Enough," said OldSmoothie. "No more. This is the sort of thing that should not be discussed out loud and I will hear no more of it here."
There was a moment of silence before TheCreep changed the subject. "Well, I've been liking the way Robert Jay QC puts his questions to the witnesses."
"Yes," said TheBusker, it really does make you wish that parliamentary select committees had their very own barristers to ask the questions."
"An excellent idea," said OldSmoothie. "I'd apply in a jiffy if that particular job came along. I mean some MPs are excellent, but there are others who can only be described as vain, arrogant, pompous, self-satisfied publicity hounds."
"And you're suggesting that replacing them with you would change that profile?" said BusyBody sarcastically.
BabyBarista is a fictional account of a junior barrister written by Tim Kevan whose new novel is Law and Peace. For more information and to read past posts visit babybarista.com. Cartoons by Alex Williams, author of 101 Ways to Leave the Law.